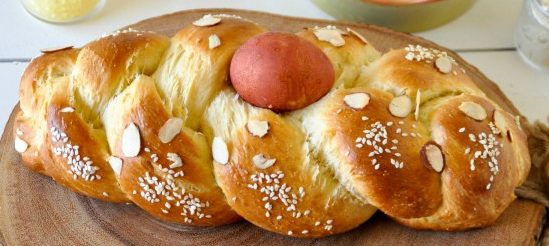 You can find this recipe and much more here:
https://www.amazon.com/
or
https://www.amazon.com/Tastes-Europe
INGREDIENTS:
10 cups all-purpose flour, divided
6 large eggs, divided
1 3/4 cup whole milk
1 cup sugar
1/4 cup brown sugar
1/2 cup vegetable oil
4 tsp active dry yeast
1/2 tsp salt
2 tbsp lemon zest
1 tsp vanilla extract
1/2 cup sliced almonds (optional)
1/4 cup raisins (optional)
DIRECTIONS:
Dissolve yeast and sugar (using only 1 cup of the white sugar) with warm milk in medium mixing bowl.  Add oil and 1 cup flour. Leave to rise in warm place for approximately 30 minutes.  Sift flour in large mixing bowl and make a well in the center. Stir into well yeast mixture, 5 well beaten eggs, salt, lemon zest and vanilla. Then knead well. Let rise for 1 more hour in a warm place. Beat down, add raisins, kneed slightly and let rise for another hour.
Divide dough in half.  Divide each half into 3 pieces and braid together. Place on a well greased baking sheet.  Let rise until doubled in size.  Brush with egg yolk wash.  Sprinkle with sliced almonds and remaining sugar.  Bake at 375-400F for 25 minutes or until golden brown.
Makes 2 large loaves.
All Rights Reserved BulgarianCooking.com 2017 Copyright. Unauthorized use and/or duplication of this material without express and written permission from this website's author and/or owner is strictly prohibited. Excerpts and links may be used, provided that full and clear credit is given to BulgarianCooking.com with appropriate and specific direction to the original content.