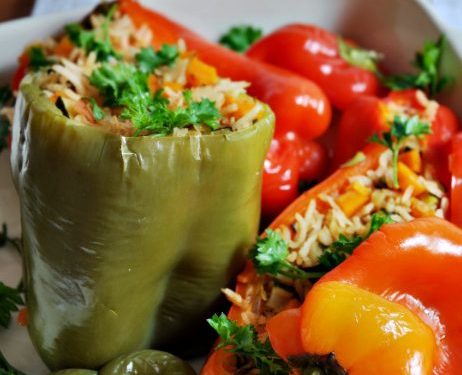 Ingredients:
• 6 green or red bell peppers
• 6 cups vegetable stock
• 2 ½ cups uncooked white rice
• 1 cup chopped mushrooms
• ½ cup finely chopped greens
• 3 tbsp vegetable or sunflower oil
• 1 small onion, finely chopped
• 1 grated carrot
• 2 cups pasta sauce
• 2 tbsp garlic paste
• 1 tsp dried carrot top flakes
• 1 tsp dried celery flakes
• 1 tsp basil
• 1 tbsp winter savory
• ½ teaspoon salt (or as desired)
• fresh parsley for garnish
Preparation:
Combine all ingredients in mixing bowl minus the bell peppers and stock. Mix together, then lightly stuff into peppers which have been cored, de-seeded and washed. Place stuffed peppers into a large stove top pot. Cover with stock making sure that peppers are completely emerged in liquid. Add additional water as needed now and if evaporation occurs. Cover peppers with a small ceramic plate to keep them stable and so rice will not spill over. Bring liquid to a boil and then turn heat down to simmer for about one hour. You will know when they are done by seeing that the rice has expanded over tops of peppers. Garnish and enjoy with a spoonful of yogurt on the side with lots of bread for dipping in sauce. Serves 6 portions.
2016 Copyright – All rights reserved, www.bulgariancooking.com
For more traditional Bulgarian Cooking visit: https://www.amazon.com/Cooking-Traditions-Bulgaria-Expanded-Second/dp/1537125346/ref=sr_1_1?ie=UTF8&qid=1482499922&sr=8-1&keywords=kathryn+donev