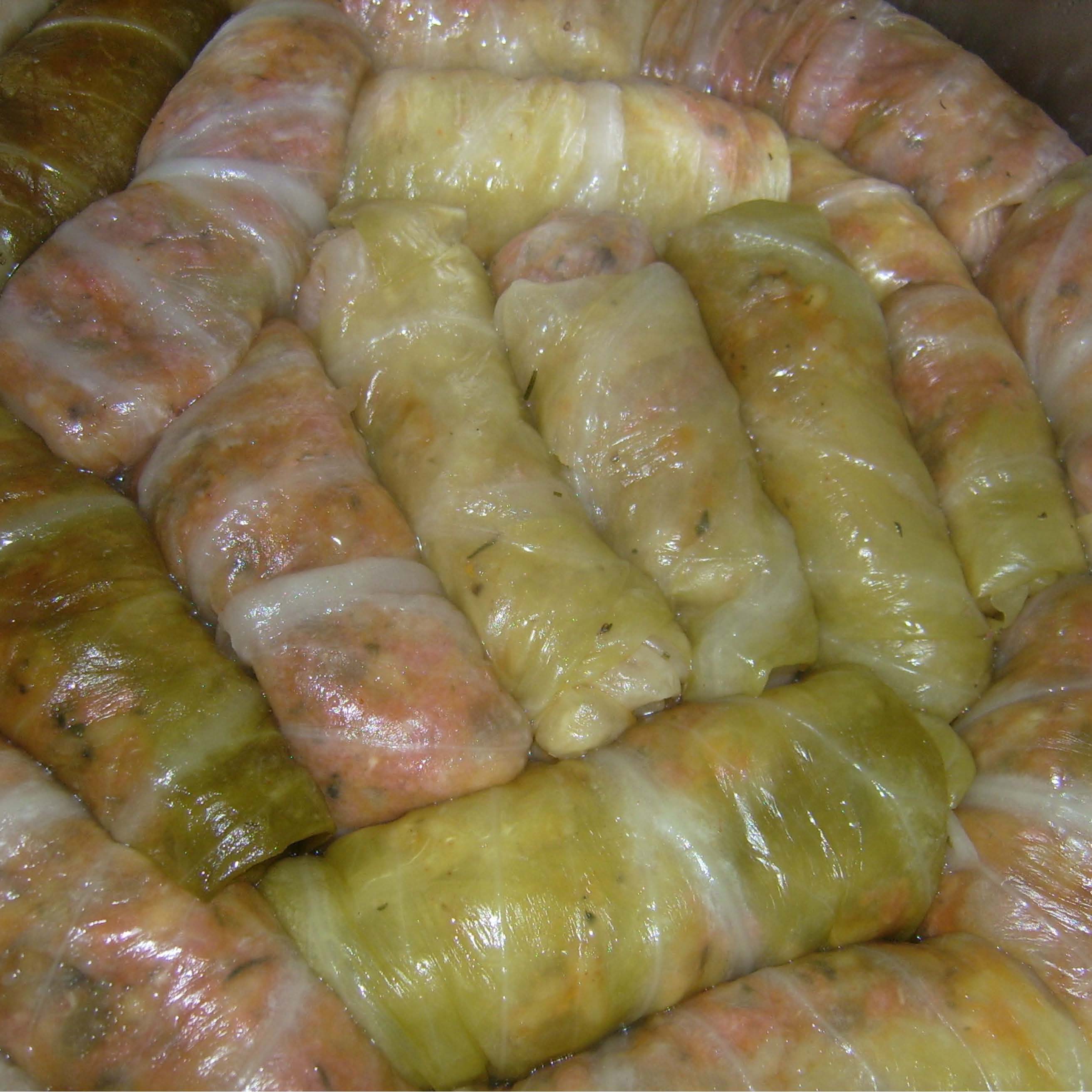 Ingredients
15 oz. crushed tomatoes
8 oz. tomato sauce
3/4 tsp. salt
1 tbsp. red wine vinegar
1 clove grated garlic
Filling:
1 whole head of green cabbage
1 lb. ground beef
1 lb. ground pork
1/2 c. chopped onions
1 egg
2 tbsp. milk or cream
1/4 c. breadcrumbs
1 c. cooked rice
1/4 c. chopped fresh parsley
1 tsp. salt
1/2 tsp. ground black pepper
Directions
Sauce: In a large bowl, combine the crushed tomatoes, tomato sauce, salt, red wine vinegar and garlic. Stir.
Filling: Bring a large pot of salted water to a boil. Cut out the core from the base of the cabbage and remove the 1-2 outer leaves. Place the cabbage cut side down into the pot of boiling water. As you see leaves naturally start to separate from the head of cabbage, gently coax the leaf off with a pair of tongs and transfer it to a colander set over a bowl. You will need about 14 cabbage leaves. Rinse the leaves with cold water until cool enough to handle. Drain well and pat dry with a clean kitchen towel.
Place the cabbage leaves on a cutting board and make a V-shaped cut at the bottom of each leaf, to cut out the thickest part of the center rib.
In a large bowl, combine the ground beef, pork, onion, egg, milk or cream, breadcrumbs, rice, parsley, salt and pepper. Mix gently to combine.
Preheat the oven to 350 degrees. Butter a 9-inch-by-13-inch casserole dish. Ladle 1 cup of sauce into the dish and spread all over. Starting with the largest, outer cabbage leaves, lay each cabbage leaf flat. Take about 1/3 cup of filling and roughly shape it into an oval shape, about 4-inches long. (For some of the larger leaves, use up to ½ cup of filling.) Place the oval in the center a cabbage leaf, just above where the rib was cut. Fold the sides of the cabbage leaf over the filling and roll up into a little bundle (start rolling at the cut side, over into the uncut side). Place seam side down over top of the sauce in the baking dish. Repeat until each cabbage leaf is used. Drizzle the remainder of the sauce all over.
Cover tightly with foil and bake for 1 hour and 30 minutes, until the meat is cooked through. Serve with a side of mashed potatoes, if you like.