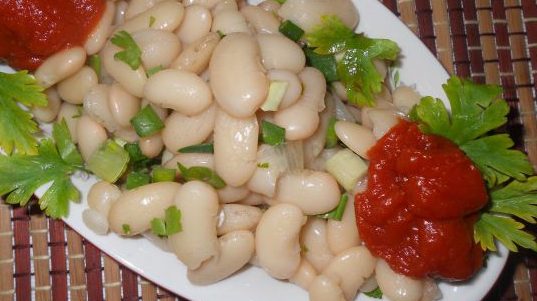 1 can of white beans
1/2 tsp salt
4 thin onion slices (white or red)
2 tsps  vinegar
3 tbsps vegetable oil
Parsley for garnish
Directions:
Open and drain can of beans. Pour into mixing bowl. Add salt, vinegar, oil and onion. Mix together and you are done. Serve cold. Garnish with parsley if desired and traditionally you could serve with a side of lutentsa spread.
All Rights Reserved BulgarianCooking.com 2017 Copyright. Unauthorized use and/or duplication of this material without express and written permission from this website's author and/or owner is strictly prohibited. Excerpts and links may be used, provided that full and clear credit is given to BulgarianCooking.com with appropriate and specific direction to the original content.